09 March 2015
Urban Ritual Roda + Pandeiro
On Saturday 07/03/2015 I went to the Urban Ritual open roda for the first time. This roda happens on the first Saturday of every month, organised by Mestre Fantasma and his students at the 'Corbet Place Bar and Lounge' in East London, from 18:00. It's an occasion for people of various groups to gather and play.
I didn't get to go in the roda despite a couple of attempts, but then everyone I spoken to said it's better just to watch the first time. But because I had met quite a few of the people in there who come to Mojuba's roda, I just felt quite comfortable and quite eager to play. It wasnt't to be, so instead I took some photos and filmed with my phone and made this video. I shall be going again next month! I also met Mestre Axe for the first time and we had a good 'papoeiragem' (made up word: means 'chatting about capoeira').
Oh, at the end of the roda, Mel, who also comes to the Dance Attic to draw regularly, showed me this, she made a drawing of me (with stripey shirt and camera), Mestre Axe, Mestre Jarrao and his friend – before the roda started.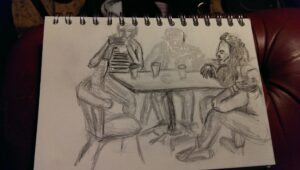 Pandeiro
Slowly but surely I'm progressing with the pandeiro, which I play a lot less than the berimbau. And lately I have been learning the atabaque – which I'm crazy about, so the pandeiro is a bit further down the list. Even the agogo has been getting more loving from me!
Yesterday in class I managed to do this though, last time I tried I completely failed – but this time I picked it up straight away. Happy!
https://plus.google.com/+LeticiaGolubov/posts/jfSpR26oSsk
video above: tum tum ta(f) ta(p) ta(f) played by Paula.
tum = thumb on the edge
ta = hand in the middle
ta(f) = finger, ta(p) lower palm
And also practice these, given the notation tum (thumb on edge), ta (open hand in the middle) (f) middle with finger, (p)middle with lower palm.
basic capoeira: tum ta tum shake
variations:
* tum ta tum tum tum tum ta tum
* tum ta tum tum tum ta tum
* tum ta tumx5 tum tum